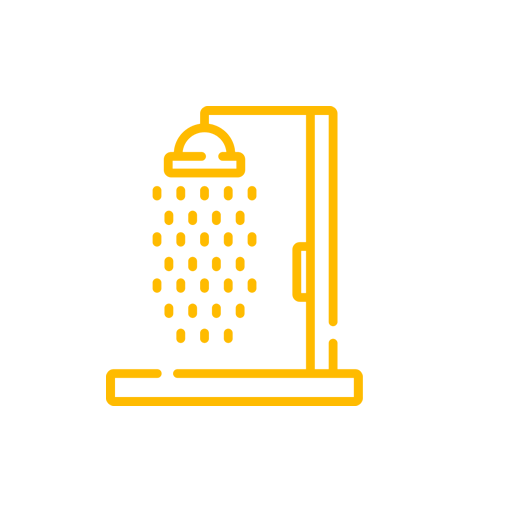 The trend toward making the bathroom a space for pampering means that showers are larger and more luxurious than ever.

SHOWERS
Space constraints in our homes and busy lifestyles mean that many bathrooms are planned without bathtubs. In which case the shower takes on a more central role in the design.
Nearly all new shower installations that we do on the Sunshine Coast are tiled rather than acrylic linings. The key element is waterproofing. If you opt for a shower fitting installed over a bath, the base of the bath becomes the floor of the shower, which is an easy solution for the runoff of water.
Self contained acrylic showers can be bought from a manufacturer, but the most popular shower in Queensland is using waterproofed tiling. The other great advantage of a custom built shower is than it can be sized and shaped to suit the dimensions of the room.
If the entire bathroom is designed as a wet room with good drainage, then it is certainly possible to install a shower without the necessity of an enclosure. This is an approach used frequently in minimalist bathrooms, where the aesthetic aim is to keep the space as sparse as possible. Or, in recent years a 'wet area' with two walls of tiles, and a one wall glass (no door) so that the effect of spaciousness is still achieved, but without the closed in feeling of a door.
A huge array of shower fittings are also available. The fixed overhead "rain" shower is less popular these days, partly due to the lack of flexibility. It does, however, deliver a soothing downpour of water. Height adjustable rails are valuable in a family situation, so each family member can alter the position of the showerhead. Shower sets with flexible hoses that allow the showerhead to be used in a fixed position or as a hand held unit for washing children's hair or cleaning the shower. A popular option is to install both a fixed head and an adjustable height or handheld head, with a swivel adjust to switch between the two devices.